National aeronautics innovation
– Introduction
The special conditions for the aeronautics industry
The aeronautics industry is characterized by certain special conditions, which are of great importance for the research that must be performed to meet the industry challenges:
The industry is very research intensive.
Strong requirements on verification of any new technology to ensure flight safety.
New military aircraft projects are started with long time intervals, typically 20-30 years, while civil aircraft projects in many cases are initiated as often as every year.
The long development time is matched by a long product life, both for civil and military aircraft.
Long repayment periods for companies makes it difficult to find financing in the capital markets.
The aerospace industry is international on a global level.
The industry is internationally characterized by strong collaboration between government and industry.
The aerospace market remains politically driven and is not ideally transparent. Military export affairs are mostly carried out with strong government involvement and transfer of technology, which also creates business opportunities in other industrial sectors.
The development of civil aviation is strongly linked to the ability to reduce environmental impact in competition with alternative modes of transport. The civil aviation sector is a cyclical growth industry with long-term average annual growth of about 5% seen over several economic cycles.
TRL
The understanding of the innovation process and the implementation of strategic research agendas need to be increased amongst all participants in the overall innovation system. Each participant must understand their role and responsibilities. Therefore a common toolkit/concept, assessment of verification levels and risks, and analysis of the innovation process using the so-called innovation index are all necessary, as well as many other things.
The TRL tool (technology readiness level, which describes the maturity of technology) is the aerospace sector's first choice, one in which we will be able to contribute very actively to increasing Sweden's understanding of innovation. TRL is a tool primarily intended to ensure that the introduc­tion of research results in product development taking place at the right time with verified technology. The tool provides opportunities for different players to unambiguously collaborate on research without any risk of misunderstanding. TRL opens many doors:
Firstly, the tool offers an identifica­tion function: how far along is the research on the path from idea to product?
Secondly, the TRL concept gains a communicative function, allowing different organisations to discuss research unambiguously without any risk of misunderstandings.
This situational description and communication can then be used to study the innovation process itself by, for example, looking at general issues in the transitions from one TRL to the next.
And when is it time for the next step? TRL offers a verification function when research within a technology area is to be lifted from one readiness level to another, checking that all criteria are met. Thus, TRL is used to identify dif­ferent types of risk, both technical and commercial.
TRL can therefore be used for identifi­cation, communication, risk analysis, and verification/certification.
The degree of technological maturity (technology readiness level, TRL) is indicated using a nine-point scale developed by NASA and aims to highlight how far research on a particular technology has come before the innovation is fully developed into a manufactured, sold, and working product. TRL 0 indicates it is an idea, TRL 9 indicates it is a proven product on the market. Different research and development organizations are usually at different points on the scale.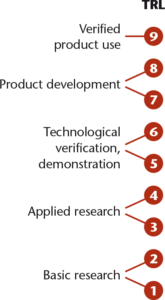 The "oblique-wave principle" and effect logic
Development of innovations and technologies for civil and military aircraft and engines can be illustrated by the so-called oblique-wave principle. A new wave starts every fourth to fifth years, and it then takes about 15 years for new technologies to develop before it can be implemented in new market products. It is therefore important that the Swedish aeronautics research has ongoing activities in all technology development phases – research programs, demonstrators and product development – so that investments will survive all the way to new products.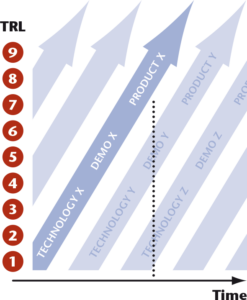 At any point in time, research is performed on different TRLs within different technology areas. We often have a pretty good idea of which technologies we will have to master in the future. If we follow these technologies back along the oblique waves down to today, it becomes obvious which research areas we will have to master today, at lower TRLs.
Swedish civil research funding supports mainly basic technology programs. However, the technology and competence, applied to new concepts, must be validated and verified in demonstrators.
The gap between academic research and industrial needs (within TRL 7-9) needs to be covered to help Swedish companies to position itself in European demonstrator programmes. This could be done with the help of research programmes that supports Swedish participation in international demonstrators.
Collaboration between civil and military research programmes should be done because there are strong dual-use elements up to TRL 6.  Within certain areas the opportunity for collaboration with other sectors such as material, product development and manufacturing areas should be pursued.
The oblique-wave principle offers the foundation for the effect logic showing which efforts on low TRLs (research) that result in products on high TRLs (the market).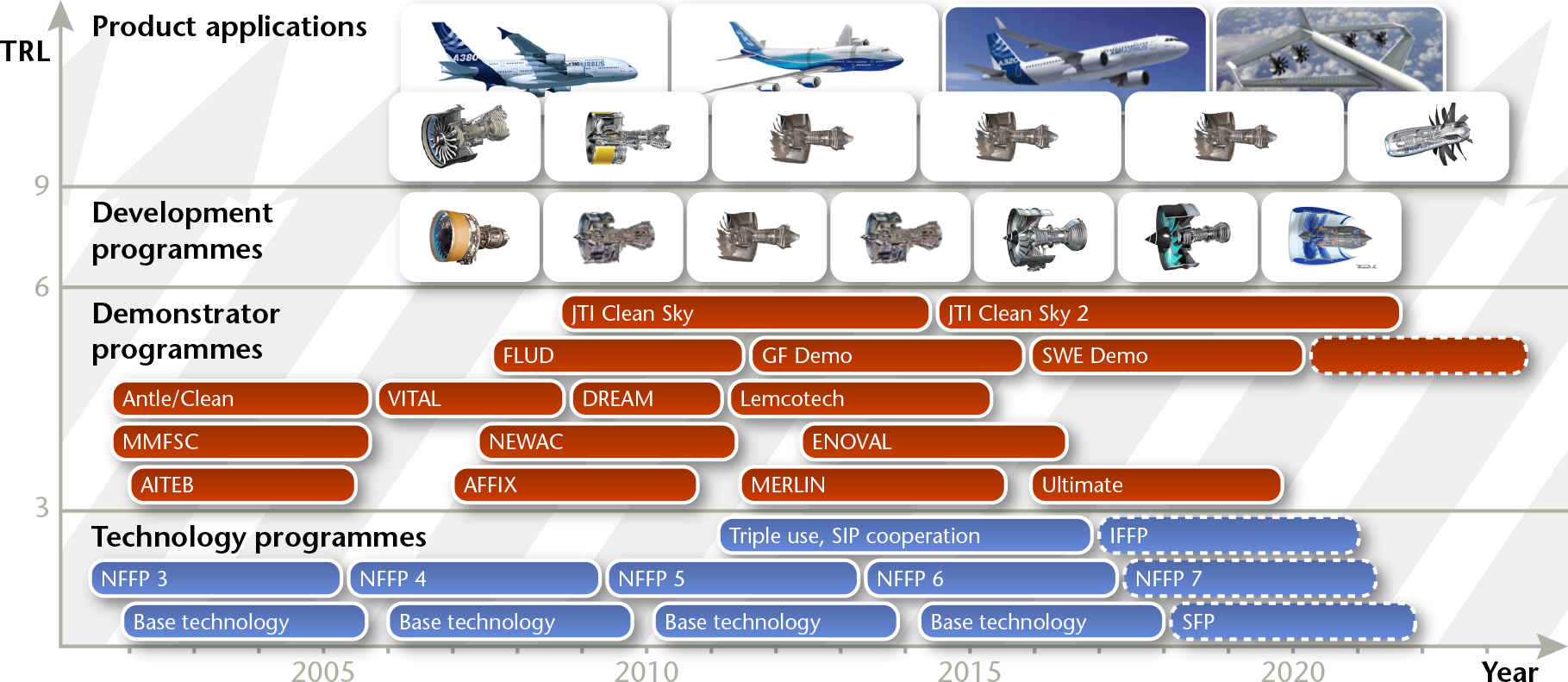 Effect logic for GKN Aerospace.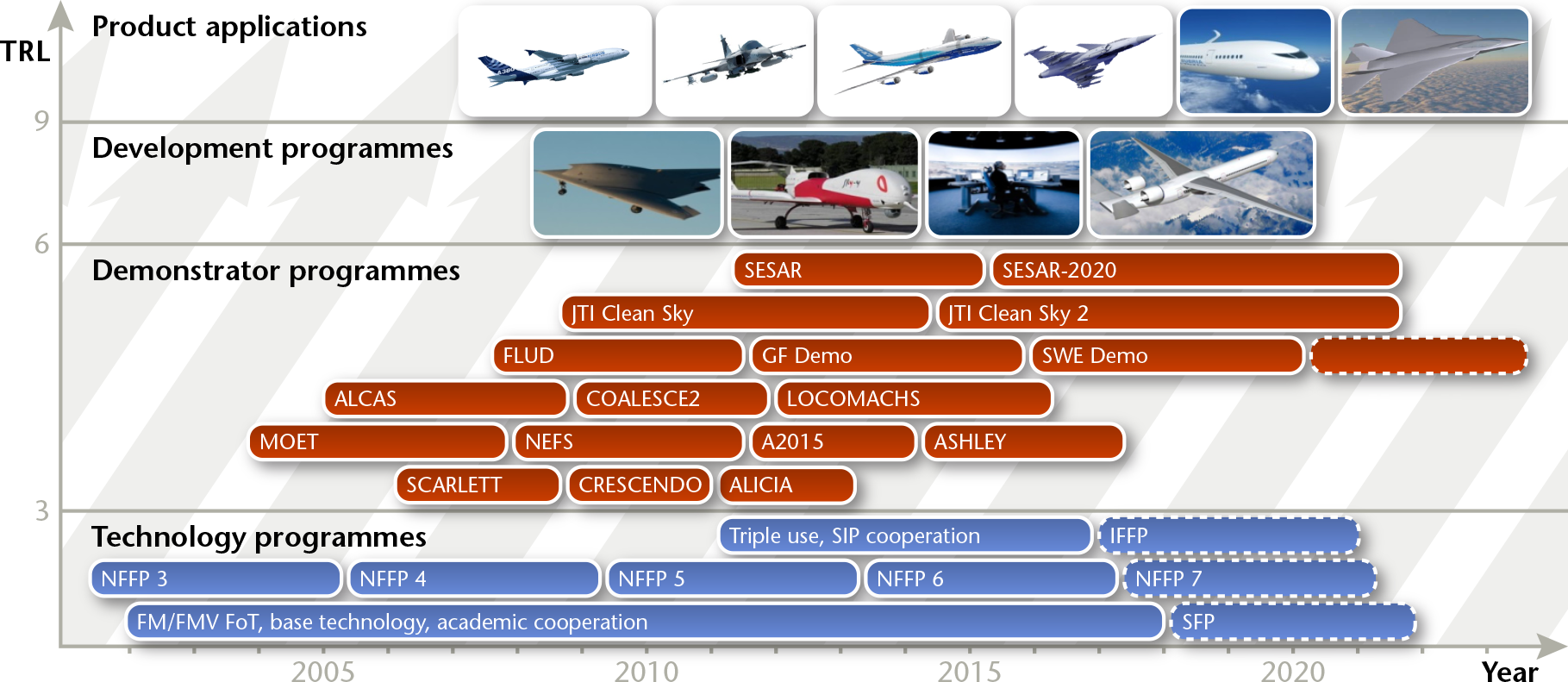 Effect logic for Saab.