SAAB AND IMPERIAL COLLEGE LONDON LAUNCH ZERO PRESSURE PODCAST WITH A DISCUSSION ON SPACE IN 2050 BETWEEN THE FIRST BRITISH AND THE FIRST SWEDISH ASTRONAUT
Saab and Imperial College London are launching the Zero Pressure Podcast, which will examine how science and technology are playing a leading role in solving the complex, interrelated global challenges we face both now and in the future.
The Zero Pressure Podcast will be hosted by Helen Sharman CMG OBE, the first British astronaut. Helen will welcome pioneering minds to the discussion and jointly with them explore topics on the cutting edge of science and technology.
Conceived of by Saab and the Institute for Security Science and Technology at Imperial, the podcast series will have a particular focus on security. It will look at protection for individuals, nations and the whole Earth from both cyber and physical threats, with the discussion spanning from space and aerospace to deep ocean technology.
In the first episode, Helen will welcome Christer Fuglesang, who became the first Swedish astronaut in December 2006 when he flew as Mission Specialist on the Space Shuttle Discovery's voyage to the International Space Station. Now a professor at KTH Royal Institute of Technology in Stockholm, Christer will share some of his experiences and views on the future of space exploration, security in space, and much more.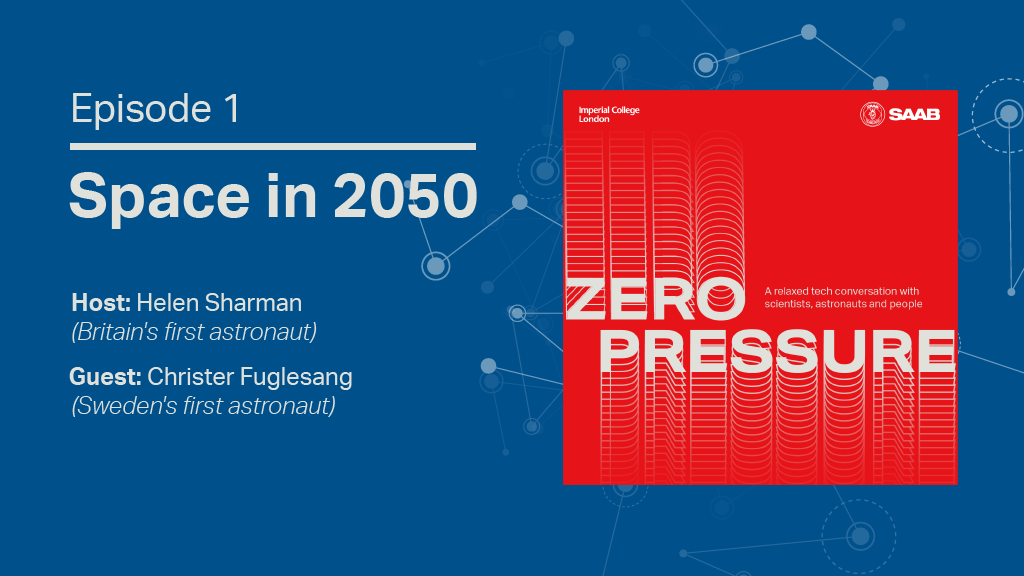 The Zero Pressure Podcast will also shine a spotlight on how science and technology can support global resilience and enable greater social and environmental good, over the long-term. The role ground-breaking technologies can play in addressing and solving the global challenges of today and tomorrow will be a central theme of the podcast series. And the insights and experiences of the thinkers and doers who are leading the way in developing these technologies will feature throughout.
Read more about the podcast on this link: https://www.saab.com/zeropressure
Next episode on July 20 will be about Autonomous Systems.